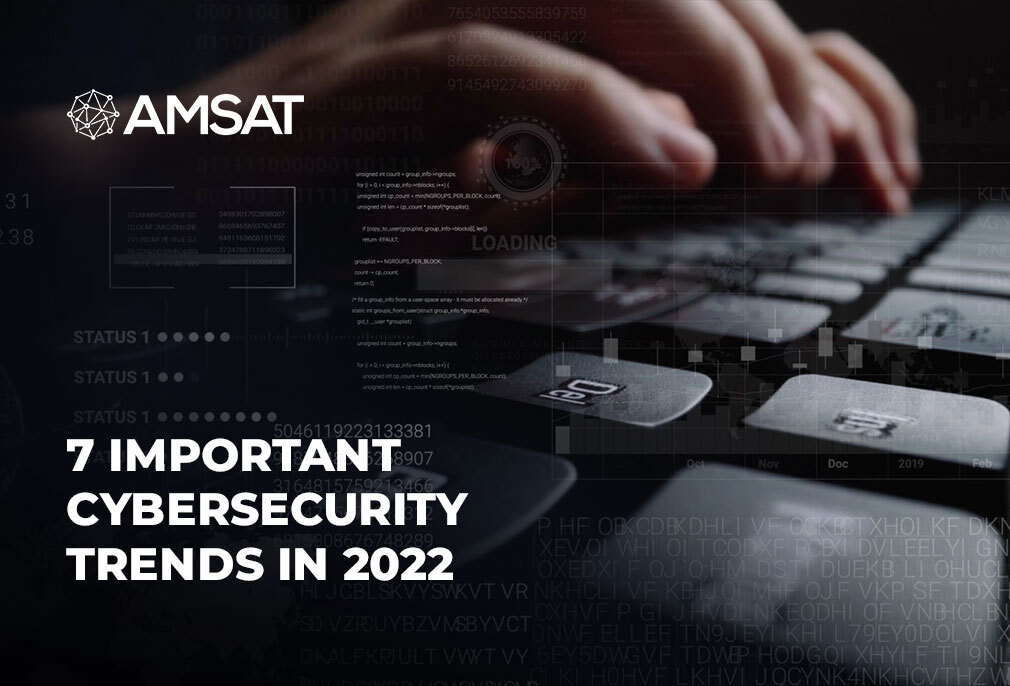 7 Important Cybersecurity Trends in 2022
Organizations have increased their cybersecurity spending over the last two decades, and it's easy to see why: from costly data breaches to crippling malicious attacks, companies are rushing to stay up with the rising complexity and sophistication of cyber threats.
In the face of the COVID-19 pandemic, businesses face new cybersecurity challenges in addition to new technology. According to Cisco's Future of Secure Remote Work Report, 61pc of survey respondents said their firms have seen a 25pc rise in cyber risks since the pandemic started in March 2020.
Below are seven developing cybersecurity trends to be aware of in order to prepare for new cybersecurity risks and stay one step ahead.
New Technologies and Devices
The reasons for the growth in cyber-attacks—and the increased focus on preventing them—are numerous. The proliferation of new technology and devices is one factor. More than 41 billion Internet of Things (IoT) gadgets will be online and connected by 2027, according to Business Insider. As a result of their expanding reputation as a key target for cyber-attacks, the IoT industry is looking for new ways to defend their devices.
Smart plus, wearable fitness devices, and baby monitors are some of the devices that need to be protected from cybercriminals.
Growing Ransomware Attacks
Another important aspect contributing to the surge in cyber-attacks is monetization. Cybercriminals used to find it impossible to profit from attacks, but that has since changed. Ransomware attacks, in which assailants gain access to and encrypt a victim's data before demanding a ransom, are becoming increasingly popular.
As a result, attackers have become more motivated to commit cybercrime in the pursuit of monetary gain, making it more difficult to trace and identify these offenders. Therefore, there is a growing demand for qualified cybersecurity specialists who can develop tactics to prevent these threats.
Attacks on Cloud Services
Many businesses have embraced cloud-based computing services in recent years, which allow customers to access software programs, data storage, and other services over the internet rather than relying on physical infrastructure. Embracing this technology has a number of advantages, including lower operating costs and better efficiency.
Although such systems can be extremely valuable to businesses, they have also become targets for cyber-attacks. Attackers are more likely to be able to exploit flaws in these systems' security and obtain access to sensitive information if they are not properly setup or maintained. This is especially essential because many modern businesses rely on cloud services because their workers work remotely.
Obsolete and Ineffective Systems
Finally, linking legacy systems increases the danger of an attack or breach. Security flaws might be generated unintentionally when IT uses patchwork solutions to resolve operational concerns. As cyber-attacks become more devastating and technologies change at a quicker pace, these outmoded and ineffective systems become easy targets.
Due to the constant evolution of cybersecurity threats, experts in the field—and those interested in joining them—must keep up with the latest skills, methods, and career prospects in order to stay competitive.
Risks of Remote Working
COVID-19 pandemic has resulted in a significant increase of remote employees, and remote employment is here to stay. According to an Upwork research, by 2025, slightly over 40.7 million Americans would be working remotely, up 87% from pre-pandemic levels. Unfortunately, many firms are now more vulnerable to cyber-attacks because of this.
Constant Use of Multi-Factor Authentication
As an additional layer of protection against data breaches and other cyberattacks, many firms have merged the usage of passwords with multi-factor authentication (MFA).
Multi-factor authentication requires users to validate their identities using two or more devices. An employee wanting to log into their company's file sharing service on their laptop, for example, uses their laptop to enter their login and password. They then receive a code by text message to the phone number on file (or by using an authentication app on their phone). They'll need to input this code to finish logging in.
Massive Interest in Data Privacy
Concerns around data privacy, particularly in the context of consumer and business information, have grown in the cybersecurity industry. Today's enterprises must abide by a number of federal, state, and international data privacy rules, and consumers are growing increasingly sensitive about how their data is handled.
Cyberattacks and data breaches disclose sensitive personal information, endangering customers and businesses. To strengthen their data privacy, firms of today need to take into account issues like data encryption, password protection, and network security. Businesses should also have a group of highly qualified cybersecurity experts working to secure their data and guard against potentially disastrous data breaches.
Crucial Cybersecurity Skills for Today's Experts
It is not simple to defend an organization's IT systems and information assets from internal and external attacks. Today's cybersecurity experts need to be well-versed in the subject, as well as have the required training and work experience.
Some skills that cybersecurity specialists are expected to have include technical skills, knowledge of major cybersecurity terms and concepts, a logical approach, and soft skills. Professionals in the field of cybersecurity need to grasp the legal and moral ramifications of information security, privacy, and digital rights as well as how to plan and implement security methods to reduce risk and improve protection. and a fundamental understanding of network protocols and computer system security.
A Positive Outlook for Cybersecurity Jobs
Professionals choosing this career path have a promising future because cybersecurity is such a highly sought-after industry.
The Bureau of Labor Statistics projects that the cybersecurity sector will expand by 33% between 2020 and 2030, outpacing the overall industry growth rate of 4%. In addition, some projections state that by 2025, there will be more than 3.5 million open positions in the worldwide cybersecurity workforce.
The qualified, seasoned professionals are in high demand, which implies they have a high earning potential. The median annual salary for an information security analyst is about $103,590, according to the BLS. According to staffing data, other job titles including security directors, information systems security engineers, and chief information security officers can fetch more than $200,000.
Ready to
Get Started?
Our specialists are ready to tailor our security service solutions to fit the needs of your organization.