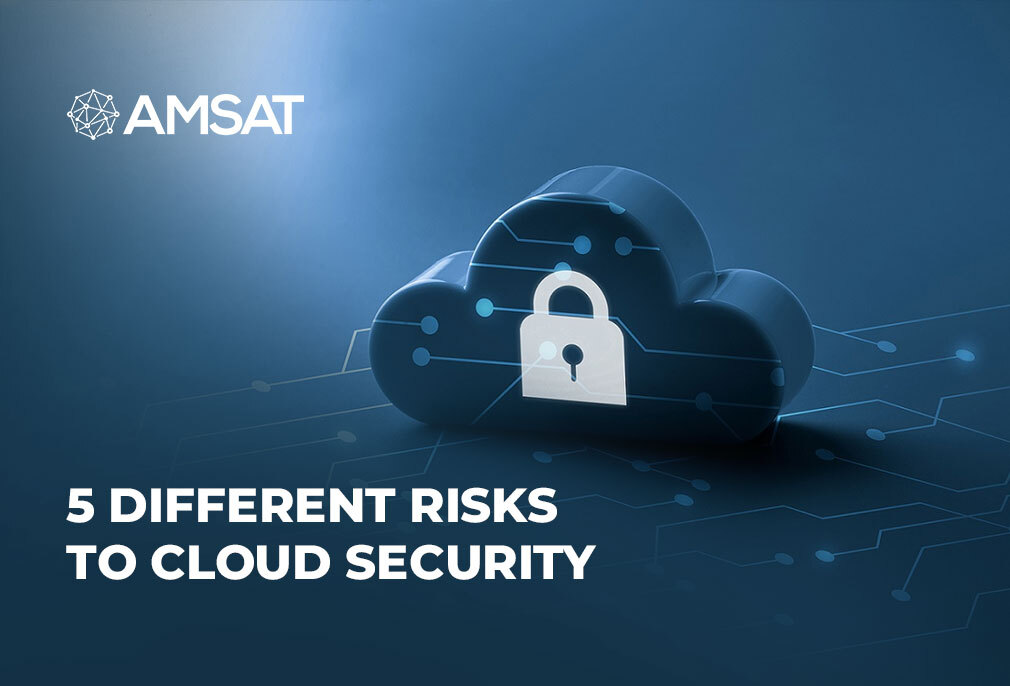 5 Different Risks to Cloud Security
Over the past few years, especially in the aftermath of the epidemic, cloud usage has grown tremendously. However, given a surge in cloud adoption, threat actors concentrated their efforts on attacking common cloud vulnerabilities.
Since the cloud isn't going anywhere, businesses must make sure they do their bit to maintain a secure cloud environment as the threat landscape changes in order to protect themselves, their clients, and their supply chain from cyberattack.
To that end, the top five vulnerabilities that threaten cloud users are as follows:
1. Misconfigured Settings
Misconfigured settings are frequently the root of cloud data breaches, and 68% of businesses now see this as their top worry for cloud security.
Because cloud services are intended to speed up and simplify processes, access to data may not be as tightly controlled as it should be. And this might allow for unwanted access in many different ways.
While working with a cloud provider, some people could believe that the cloud provider is responsible for all aspects of your security. Configuration will, however, frequently depend on the company.
This calls for the IT department of your firm to evaluate all the settings and permissions and make sure that all necessary security measures are taken. This entails limiting access, using multi-factor authentication (MFA), and utilizing any available logging and monitoring tools since they can assist you in keeping tabs on and controlling what's happening.
It's also a good idea to frequently review your cloud audits to make sure there haven't been any suspicious or unusual activities related to incorrectly setup settings.
2. Poor Data Quality Management
When your data is stored on the cloud, it might be more difficult to keep track of it all. For this reason, it's crucial to ensure your data is accurately labelled and organized according to its level of sensitivity.
When you have this knowledge, you may choose appropriate security measures and restrict access to extremely sensitive data.
Data sharing is also made very simple by cloud services, but if not managed properly, this could pose a security risk. It's a good idea to assess which data should keep these capabilities and which should not because administrators can control data sharing access. Companies frequently forget to restrict the devices that can download their company data; therefore, you should do the same.
Lastly, it is crucial for cloud users to ensure data is as secure as possible while being transferred. Since it is challenging to track or intercept communication in the cloud and this reduces visibility of data transfer, it is crucial to ensure that it is adequately secured. The greatest type of encryption is client-side, which encrypts data on your end before it is sent to cloud servers.
3. Inadequate Employee Training
It is crucial to educate personnel about cloud security best practices and fundamentals.
Some cybercriminals even exploit cloud-based services as the focus of their phishing emails by providing a malicious link that appears to be from Google Drive or OneDrive and then requests confirmation of login information in order to access the document. The staff must be able to recognize these dangers as well as other critical hazards, such as shadow IT, that could hurt the company.
Organizations face a lot of issues when employees utilize unidentified software and devices on a company network because it's nearly hard to have comprehensive visibility, especially when there are a lot of remote workers involved.
A whopping 80% of employees admit to utilizing cloud-based software as a service (SaaS) application at work without getting IT's permission. Staff members must be trained to reduce these major potentialities since unsecure equipment and software might result in data loss and vulnerabilities.
4. Inadequate Security Policies
Every situation calls for consideration of security, and the cloud is no exception.
Written policies make it easier for users to understand the rules and guidelines that govern how securely they should use cloud applications.
Specified in a cloud security policy should be:
Who is able to use the cloud.
What information needs to be kept in the cloud.
What the best practices and correct processes are for using the cloud securely.
Each employee should be obliged to read the policies, and they should be reviewed and modified as necessary on a regular basis.
5. Choosing the Wrong Provider
Although several cloud service companies are available, selecting one that prioritizes security will be extremely advantageous to both you and your company.
A smart place to start is to determine if the cloud vendor complies with industry-recognized security standards. You should also look for other crucial features and capabilities, including as authentication procedures, data encryption, disaster recovery, and technical support.
Final Thoughts
For both large and small teams, working from the cloud may be a significant value. But it's crucial that security is not sacrificed for convenience as the use of these services increases.
Implementing the appropriate technologies and practices is necessary for robust cybersecurity; doing so enables your company to take advantage of all the advantages cloud computing has to offer while reducing the risk of a cyberattack and safeguarding your company and its employees.
Ready to
Get Started?
Our specialists are ready to tailor our security service solutions to fit the needs of your organization.