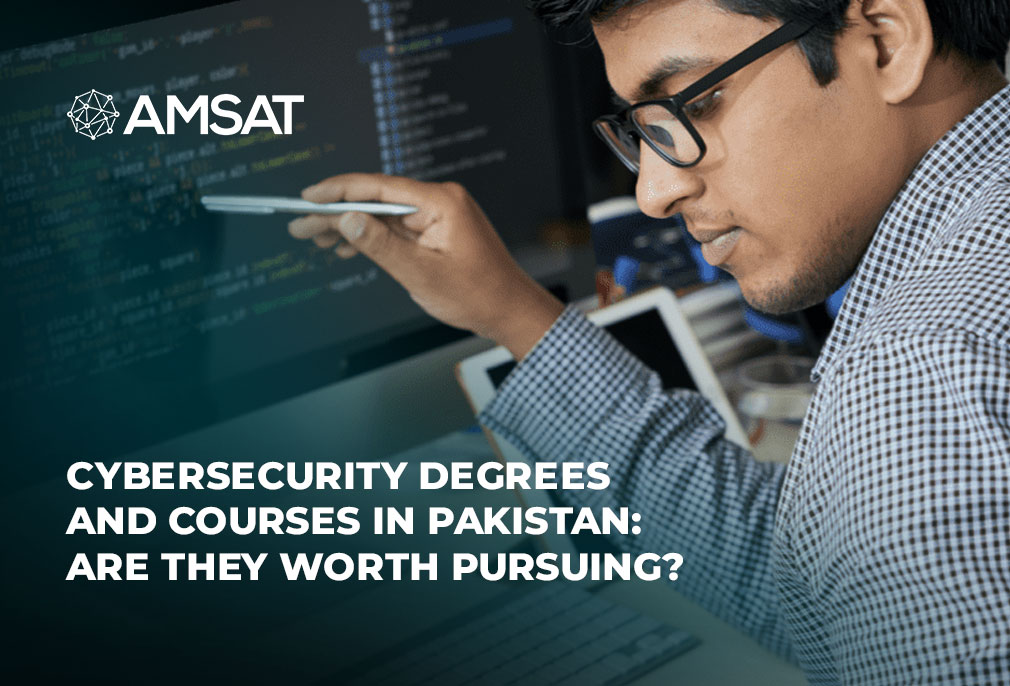 Cyber Security Degrees and Courses in Pakistan: Are they worth pursuing?
In the current volatile security environment, pursuing cyber security degrees and courses in pakistan has become more important than ever. Cybercriminals are employing more ingenious sophisticated ways to exploit individuals, government organizations, and even major corporations in the digital era.
Top companies in Pakistan and elsewhere in the world are willing to pay heavily to cyber security professionals, who can protect their data and eliminate vulnerabilities in order to defend against cyber-attacks and security breaches.
What you can study during a cyber security degrees/courses in Pakistan
Universities and colleges are still working out which technique is ideal for their degrees because cyber security is still a relatively new topic. There are different cyber security study programs and courses.
Some people are more interested in programming, while others are more interested in digital forensics, security regulations, or broad aspects of cyber security. According to the National Security Agency's 2014 Academic Criteria, IT Security degrees should include courses in:
Basic Data Analysis
Basic Scripting or Introductory Programming
Cyber Defense
Cyber Threats
Fundamental Security Design Principles
Information Assurance Fundamentals
Intro to Cryptography
IT Systems Components
Networking Concepts
Policy, Legal, Ethics, and Compliance
System Administration
Some universities in Pakistan, including the following, offer cyber security courses and degrees.
The Islamia University of Bahawalpur
Air University
Comsats University
National University of Computer and Emerging Sciences, Islamabad
Dawood University of Engineering and Technology
Khawaja Fareed University of Engineering & Information Technology
Advanced modules, particularly those at the master's degree level, can help you specialize in complex fields such as forensic accounting, artificial intelligence, virtual reality, and more.
When researching cyber security degrees, paying attention to the curriculum of each program will greatly help. You should ensure that they contain relevant courses, and select those that provide hands-on experience, which benefits both you and potential employers.
"People new to cyber-security now have a lot more possibilities," Bogdan says, "interactive classes with exceptionally skilled tutors, internships in well-established cyber-security companies, local conferences and cyber-security presentations."
"Back in my day – and to some extent still now," he continues, "Cyber Security was not something you'd learn in school." In terms of teaching algorithms and programming, the curriculum is excellent, but not so much in terms of cyber security and reverse engineering. These are talents I learned outside of the classroom, thanks to the Internet's power."
This means that while cyber security degrees are a wonderful place to start, they won't teach you everything you need to know. Keep an open mind and continue to improve your talents outside of the classroom.
Duration of cyber security degrees
In most countries, bachelor's degrees take three or four years to complete.
Master's degrees might take anywhere from one to two years to finish.
PhD programs last between three and five years. Some just take a year or two, but they are rare.
Pursuit of online cyber security degrees: A great option
Prospective students with other responsibilities, such as a part-time or full-time job, should consider an online cyber security degree. You can learn at your own speed from anywhere in the world.
You can also re-watch courses as many times as you need to and communicate with your peers via discussion boards or social media groups. While you will have some freedom, exam and project deadlines will still be set, and you must meet them.
The possibility to take an online short course in IT Security before deciding whether to pursue undergraduate or postgraduate courses is a huge plus. Cyber security short courses start at $100 (nearly PKR 20,000) at many universities and online platforms. They typically last 1-3 months and give you an introduction to online learning.
You can also save money on tuition by pursuing an online cyber security degree. Tuition is cheaper, starting at $300 (nearly PKR 59,000) per academic year, and you won't have to pay for transportation, rent, or other living expenses in another country. However, due to the technological nature of these degrees, you may need to invest in your classroom or virtual lab hardware or software.
Before enrolling in an online bachelor's or master's in IT Security, make sure the program is accredited. While the majority of online degrees are real, you don't want to waste your money and time on a forgery. Being conned while attempting to learn how to avoid cybercrime isn't exactly a plus on your resume, is it?
Cyber security internships
Internships are an excellent way to get experience and prepare for a career, providing with the opportunity to collaborate with IT Security experts and learn from real-world problems and scenarios. Internships are a great way to put what you've learned in cyber security studies into practice and identify where you can improve.
Internships can be found on sites like Glassdoor and LinkedIn. Apply if you meet the prerequisites and are satisfied with the duration and compensation. Lists of IT Security internships can also be found on the internet. Although not all of them are up to date, they save you the time of searching for each program separately.
Jobs and salaries
The world desperately needs IT security experts, more so in today's precarious security environment. ISC2 suggests a staggering 2.93 million cyber security specialists are needed globally, with the US Bureau of Labor Statistics estimating that employment in this profession will grow by 28% in the next 4 years.
While security specialists are required in various types of businesses, their need is more pronounced in key areas such as finance, healthcare, and education where people's transactions, assets, and health information must be protected.
You can seek a number of positions in the field of cyber security—and virtually all of them command considerable salaries, perks and massive demand for technical skills, attention to detail, problem-solving attitude, and the ability to evaluate risks. Here are some of the best cyber security jobs and the average yearly salaries:
Cryptographer – 100,000 USD (PKR 20,000,000)
Information Security Officer – 91,000 USD (PKR 18,200,000)
Security Assessor – 90,000 USD (PKR 18,000,000)
Security Engineer – 88,000 USD (PKR 17,600,000)
Penetration Tester – 81,000 USD (PKR 16,200,000)
Forensics Expert – 71,000 USD (PKR 14,200,000)
Security Administrator – 65,000 USD (PKR 13,000,000)
Ready to
Get Started?
Our specialists are ready to tailor our security service solutions to fit the needs of your organization.