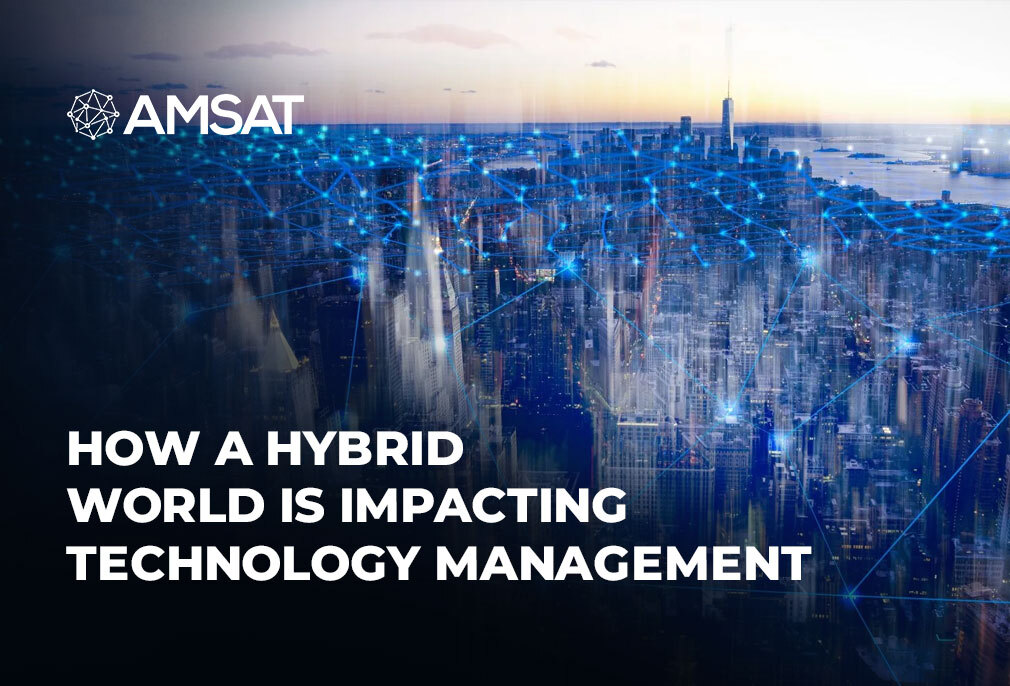 How a Hybrid World is Impacting Technology Management
The Covid pandemic forced a number of businesses to switch to a more flexible and hybrid work environment. With the adoption of a hybrid work mode, managing technology assets represent profound challenges for IT departments. Prior to Covid-19, legacy assets would have been categorized as on-premises data center servers, desktop PCs, network equipment, and other conventional hardware found in an office. But post-pandemic, the use of cloud, SaaS, and virtual resources has increased as employees work more from home and other distant places rather than from the office.
As a result, the traditional definition of technological assets must change in order to encompass a wide variety of technology that was previously unconsidered from the standpoint of IT, such as individual devices utilized in the workplace.
Across all of an organization's business lines, IT assets are managed using a set of procedures called IT Asset Management (ITAM). The visibility and security concerns surrounding technology management are growing as well, along with the concept of it. The methods and tools used to manage various assets, including hardware (ITAM), software (SAM), SaaS and cloud (infrastructure and SaaS management tools), mobile devices (MDM), and Internet of Things (IoT), constitute an organization's IT management architecture today (Internet of Things).
In the past, the organization managed these various technology stacks using a segmented manner. This frequently entails utilizing old-fashioned legacy systems that are highly tailored to meet unique needs, which makes upgrading challenging as new versions become available.
Additionally, a fast evolving and expanding IT infrastructure that needs to be tracked, controlled, and secured includes an ever-growing variety of network-enabled devices in industries as diverse as medical, transportation, manufacturing, and education. IT asset managers have never had to manage this many different types, speeds, and sizes of assets. And it doesn't get any simpler.
The adoption of the cloud and SaaS has accelerated due to more people working remotely in addition to the increased amount of technology that needs to be handled. However, it is expected that IT departments will still be able to provide the same degree of infrastructure support that was before offered in an office environment. This naturally increases the amount of work that IT must do.
A hybrid framework carries a variety of risks, but the biggest ones are related to infrastructure management, security, compliance, and productivity.
Infrastructural vulnerabilities
As more firms accept remote work, the fundamental definition of IT asset management has evolved. IT was in charge of on-premise software that was guarded by a secured firewall before the pandemic forced workers to work from home or other locations. Analyzing the IT architecture was far more predictable and manageable in these circumstances. The entire paradigm has changed significantly in a hybrid environment, and there is a trend away from returning to outdated and long-established IT architecture and operational procedures.
Complexity of Security
Second, security is a top concern for businesses using the hybrid work method. Since everyone can now work from anywhere in the world, the attack surface has considerably expanded. Furthermore, compared to office connections protected by a firewall, network access points at home or in coffee shops are less secure. Most home and small company Wi-Fi networks don't have enterprise-level security safeguards in place, and some even have none at all, leaving users vulnerable to potentially hazardous attacks.
Compliance Issues
The impediments to compliance brought on by a mixed work style must be assessed by both employers and employees. Compliance laws are intricate, dynamic, and expensive, much like many other facets of managing IT technology. The majority of compliance issues are brought on by the analysis of auditors and heavy fines. There must be measures in place to identify this information quickly in order to prevent hefty fines and to address important concerns concerning technology assets, such as who has what, where, and the precise security condition of those assets.
Many businesses that are using older IT asset management systems simply cannot acquire a comprehensive understanding of their complete technology portfolio, making it difficult or often impossible to comply with regulations when workers are working remotely. Enterprise technology management (ETM) offers thorough visibility, lowering the likelihood of compliance issues arising.
Problems with Productivity
The fourth risk associated with hybrid work environments is finally diminished productivity as a result of the inability to support remote assets or quickly provide workers with the resources they need to do their jobs. Cross-functional procedures like hiring and firing staff were difficult from a technological standpoint before the pandemic.
With the current work from home (WFH) idea, that challenge has suddenly been significantly more difficult. A strong technology infrastructure that is supported, managed, and secured is necessary for employees to be productive, but this has become increasingly difficult as individuals and their properties move about freely. In general, hybrid IT could be a great strategic facilitator. It does, however, necessitate a change in how technology is handled within an organization.
ETM Is the IT Future
Businesses should use Enterprise Technology Management, or ETM, to reduce infrastructure, security, compliance, and productive risks in a remote or hybrid environment. Despite all the difficulties IT is now facing, ETM adoption can reduce complexity to a large extent. Focusing on the user and the systems and resources they utilize is the ultimate goal of a corporate IT model. However, businesses have typically focused their technology management on the assets inside of offices or data centers. This approach to managing technology is insufficient in a developing hybrid world and unable to handle the issues posed by the contemporary work dynamic in terms of security, compliance, and productivity.
In order to give companies ease of integration, breathing room, and full lifecycle management of all assets, from the desktop to the data center to the cloud, ETM offers a single, integrated, and real-time source of truth. ETM is technology independent, and using it enables simple interface with already installed systems, speeding up deployments and time to value. All IT assets are also watched and monitored, effectively enhancing security by highlighting any potential security gaps brought by by an expanded attack surface.
Conclusion
As mentioned earlier, the working environment for which the present technology management systems were created and designed was very different from the one that businesses of all sizes are currently using. Modern applications will need to start taking over how IT handles all assets as a result of cloud-based systems' constantly increasing use.
Ready to
Get Started?
Our specialists are ready to tailor our security service solutions to fit the needs of your organization.