Latest Blogs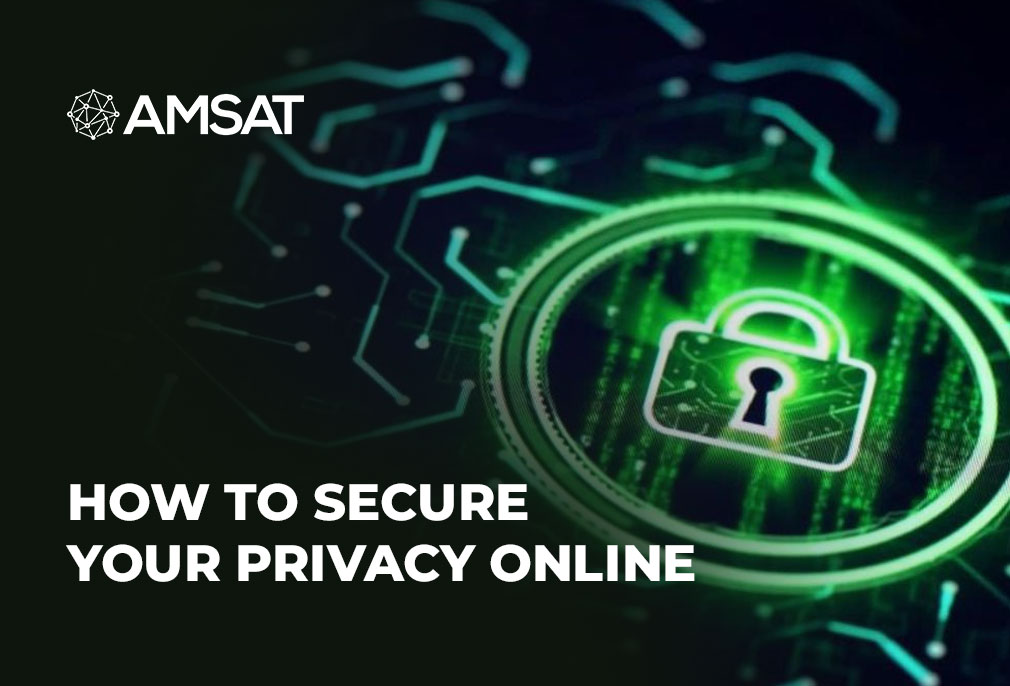 By AMSAT Oct 21,2020
How to secure your privacy online
Worried about how much of your private information is on the internet and prone to being stolen or exploited? Given the fact that today people's personal information is less secure than it was a few years earlier, with many falling prey to major data breaches, your concern is quite justified and natural.
Online privacy is an important issue facing both individuals and organizations across the globe. However, taking certain measures can help you enhance your online privacy, giving you the much-needed peace of mind.
Useful Tips for internet privacy
Here are a few effective ways that can help you protect your internet privacy.
Limit your personal information on social media
The best way to secure your online privacy is to avoid oversharing your personal information. If you post a great deal of information about yourself, a shrewd hacker can find information about your life, and can also gain access to your financial and personal information. Try and limit access to your web page to a small group of people, and avoid posting your personal or financial information on websites that can be accessed by everyone.
Browse in incognito or private mode
It is best for you to do your web surfing in private mode if you don't want your computer to save your browsing history. Web browsers today come up with their own versions to ensure privacy and protection. For example, in Chrome, it's called Incognito Mode; Firefox dubs its setting Private Browsing, and Internet Explorer uses the name InPrivate Browsing. When these modes are turned on while you search, it becomes quite difficult for anyone to trace your browsing history from your computer.
However, these browsers are not completely private, as your browsing activity is still visible to your Internet Service Provider (ISP) when incognito or private mode is turned on your system. So, while incognito surfing does have a few advantages, it's not the only tool available to help you protect your secrecy while online. Anonymous search engines and simulated private networks can boost your online privacy.
Use a different search engine
Most web surfers ordinarily use Google as their only search engine, but hardly do they know that this may breach their privacy. However, to ensure failsafe privacy, it's important to use anonymous search engines as they are also capable of blocking ad trackers on the websites you visit.
Use a virtual private network (VPN)
Some web surfers are completely unaware of the significance of a virtual private network, or VPN, to ensure their privacy. A virtual private network (VPN) provides you absolute confidentiality and secrecy by creating a private network from a public internet connection. It also covers your Internet Protocol (IP) address, making your online actions virtually undetectable. And when you are on a public Wi-Fi at any public place, using a VPN becomes all the more important, as it deters hackers from breaching your online privacy and gaining access to your personal information.
Be cautious where you click
One of the ways in which cybercriminals make a dent to your online privacy is through phishing attempts. In phishing, swindlers try to lure you into providing important financial or personal information. They often do this by sending fake emails that urge you to click on a link and confirm your financial information to keep your account from being frozen or closed. These emails appear to come from banks, credit card companies, or other financial institutions. Never fall into the trap of such criminals as a bank or financial institution never asks you to provide account or financial information through an email.
Secure your mobile devices as well
Since a majority of us spend a great deal of our time surfing the net on our smartphones, it is important that we go to any length to ensure our online privacy on them. To this end, ensure to use a password to lock your phone. While it may appear to be a hassle to enter a code every time you want to access your phone's home screen, this password could offer an additional layer of protection if your smartphone is lost or stolen. Also, ensure that your password is as complex as possible; never use your date of birth, your house number, or any other information criminals may find easy to guess
TAGS
Internet privacy
Security Updates
virtual private network
Cyber Security
Recent Blogs
Share this article
Ready to Get Started?
Our specialists are ready to tailor our security service solutions to fit the needs of your organization.