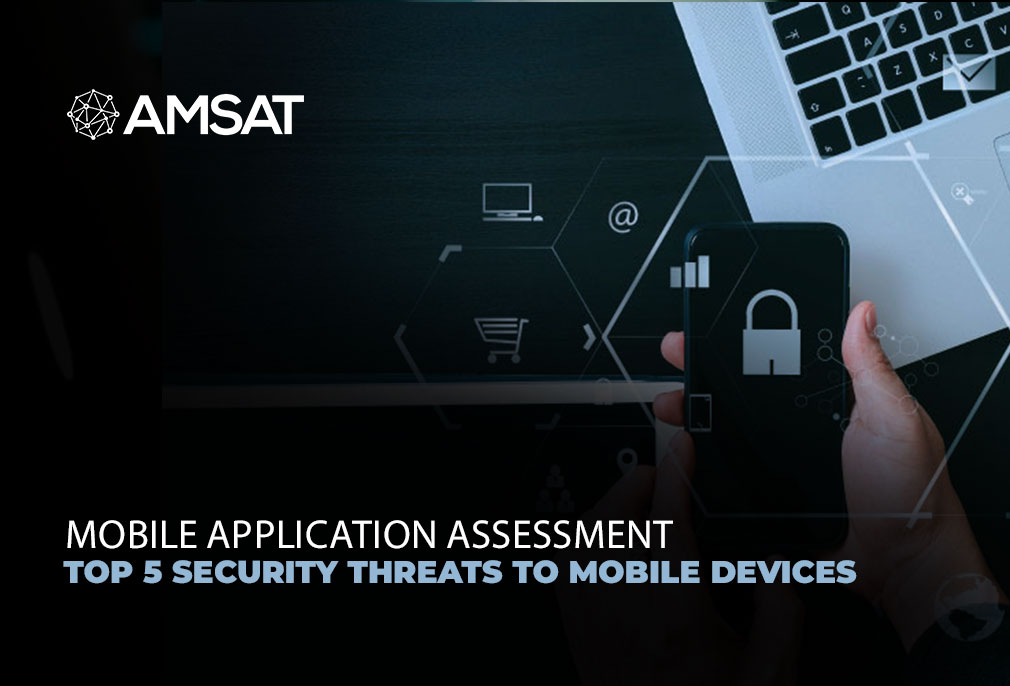 Mobile Application Assessment: Top 5 Security Threats to Mobile Devices
Application security is the method of testing and evaluating an application to ensure that mobile or web applications are protected against malicious attacks perpetrated by threat actors and cybercriminals. Organizations often have little or no expertise and sufficient bandwidth to monitor their applications effectively and adapt their security protocol to allay emerging threats. In addition, varying compliance laws require organizations to adhere to strict mandates to keep people from ineffective security.


Each organization is unique and needs professional guidance to develop a security policy that could effectively meet compliance, thwart attacks, and defend user data. Application security is vital because companies, large and small, can work on developing and improving business with the guarantee that applications are protected against potential danger. Application security also raises operational productivity, highlights compliance requirements, decreases risk, and improves confidence between a business and users. Public security breaches and compliance abuses seriously smear an organization's reputation and make potential users cagy of relying on the business's services. Enforcing effective application security is a highly valuable investment.
Mobile App Security
The sweeping rise of smartphones in the workplace and everyday situations has made them the major target for threat actors and cybercriminals. Well aware of the security hole of computing devices, hackers continue to explore new ways to exploit vulnerabilities on mobile devices. According to an estimate, mobile application attacks rose 67% in 2020, making it all the more important to be aware of the biggest mobile security threats.
Unsecured Wi-Fi

Unverified servers and leaky Wi-Fi networks at coffee shops or bookstores are a threat actor's paradise, and are doubtless one of the biggest mobile security threats. Per Jennifer Schlesinger, a CNBC reporter, cybercriminals are seeking to compromise enterprises through mobile flaws because of an increase of endpoint smartphones in the workplace. Despite prompts warning smartphone users of potentially damaging and unconfirmed servers, users will continue to connect to unsafe networks. Hackers can leverage these vulnerable networks to access important data directly from phones or apps.


Apps with Malicious Code

Smartphone users downloaded 204 billion mobiles apps in 2019. Nevertheless, people can download apps from third-party websites outside the Google Play Store or the Apple App Store. Cybercriminals can use unsafe apps to take advantage of sensitive data from mobile users. For example, a malicious mobile app malware strain called "Gooligan" impacted 1.3 million Android users, and cybercriminals were able to steal user data.


Operating System Vulnerabilities

Smartphone manufacturers must unceasingly update operating software to make room for technology enhancements, new features, and augment overall system performance. A smartphone user is occasionally advised to upgrade operating systems such as iPhone users on iOS operating systems. Software engineers supervise emerging flaws and fine-tune operating systems to deal with threats.

Nevertheless, users may choose to avoid system updates or possibly their device is no longer compatible with the latest update. The best defense against emerging mobile threats is to update your operating system at the earliest and upgrade your mobile device if the operating system is no longer compatible with new updates.


Data Leaks

Mobile apps typically store data on remote servers. Users often download apps and immediately fill out prompts to begin using the application but often do not adequately review the permissions. Advertisers can mine the data to learn more about target demographics, but cybercriminals can also gain access to servers and leak confidential data. Unintended data leaks can come from caching, insecure storage, and browser cookies.


Cryptography Issues

Mobile cryptography is critical for security, which ensures that data and applications operate safely. iOS software must confirm the application is digitally signed from a reliable source and then decode the app to perform it. Android software merely authenticates the application is digitally signed, and doesn't essentially validate the reliability of the signer. This design of digital belief raises the significance of downloading applications from an authorized source.


Important data at rest on a mobile device usually falls victim to accidental revelation due to poor, or complete lack of, cryptographic applications. Developers with tight deadlines may use encryption algorithms with current vulnerabilities or not use any encryption whatsoever. Cybercriminals can use these flaws or plunder data from a compromised mobile device.
Ready to
Get Started?
Our specialists are ready to tailor our security service solutions to fit the needs of your organization.