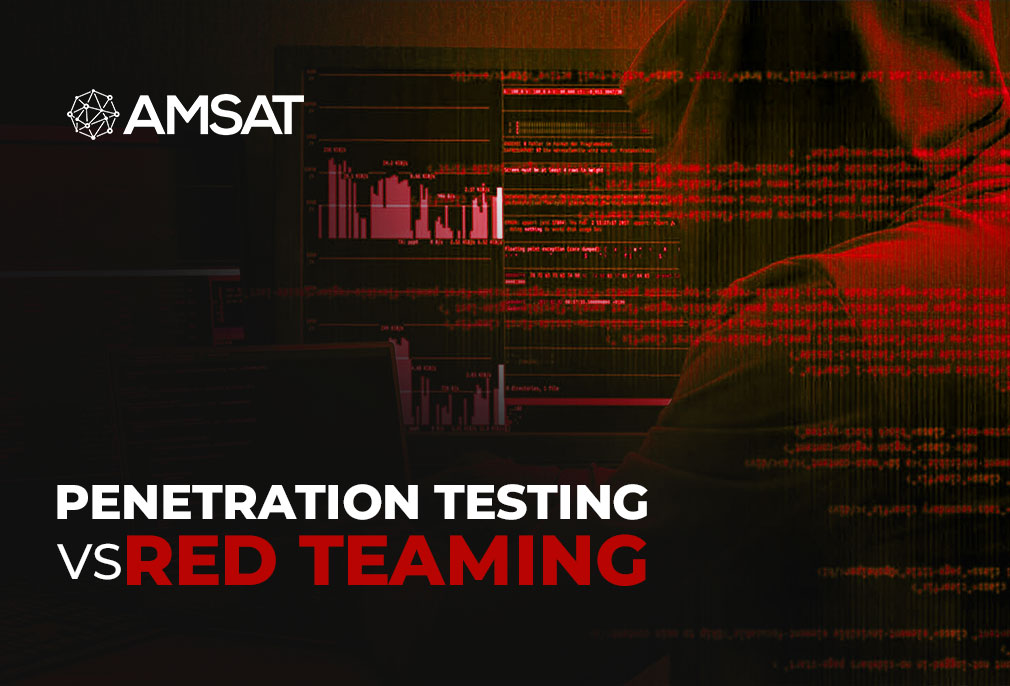 Penetration Testing Vs. Red
Teaming
Although these terms are used interchangeably, penetration testing and red teaming are two distinct things. So, what exactly is the difference between the two? In the blog below, we'll try to help you learn more about the two terms and which one might be the best fit for your organization.
Penetration Testing
This is the practice of testing a computer system, network or web application to find security flaws that a cybercriminal can take advantage of. Penetration testing can be automated with software applications or carried out manually. A skilled penetration tester can detect where and how a threat actor might target you; how your defenses would fare; and what the possible scale of the breach would be.


Penetration testing seeks to recognize application layer vulnerabilities, network and system-level faults, and opportunities to affect physical security impediments as well. In the multifaceted cybersecurity world, penetration testing has become mandatory for a majority of industries; in fact, in many it's required by law. For example, even companies that might think they don't have any important information to defend could be at risk of someone seeking to capture the network, install malware, disrupt services, and more. With so many hackers out there, penetration testing keeps up with evolving technology.


After all, your IT team develops, upholds, and supervises your security program on a daily basis. Regardless of how efficiently they do the job, though, they could take advantage of an outsider's perspective through third-party testing.
Red Teaming


Penetration testing seeks to discover as many flaws and configuration issues as it can, misuse them, and ascertain risk levels. One interesting way to view this is that the pen testers are bandits, ready to tear and plunder at their own whim. By the same token, red teamers can be thought of as ninjas, furtively planning complicated, measured, and intensive attacks. Red team operations have narrowed aims and a concurrent approach. They often involve a number of people, resources and time as they delve into the details to completely appreciate the accurate level of risk and flaws against an organization's technology, human, and physical assets.


Red teaming is generally hired by companies with more developed or established security positions; however, this is not always the case. After doing penetration testing and fixing most flaws, they then find someone to come in and try again to access important information or break the defenses, in any conceivable way, from a number of perspectives. This engenders the need for a team of security specialists, focused on a specific target, preying on internal flaws by employing physical and electronic social engineering methods on the organization's people, and taking advantage of physical defects to gain access to the premises.


Just like any hacker or threat actor, red teamers take their time, willing to steer clear of detection. Red Team valuation is a wide-ranging attack mockup conducted by highly skilled security consultants to recognize physical, hardware, software, and human flaws; acquire a more accurate understanding of risk for an organization; and help deal with and correct all identified security flaws.
Ready to
Get Started?
Our specialists are ready to tailor our security service solutions to fit the needs of your organization.