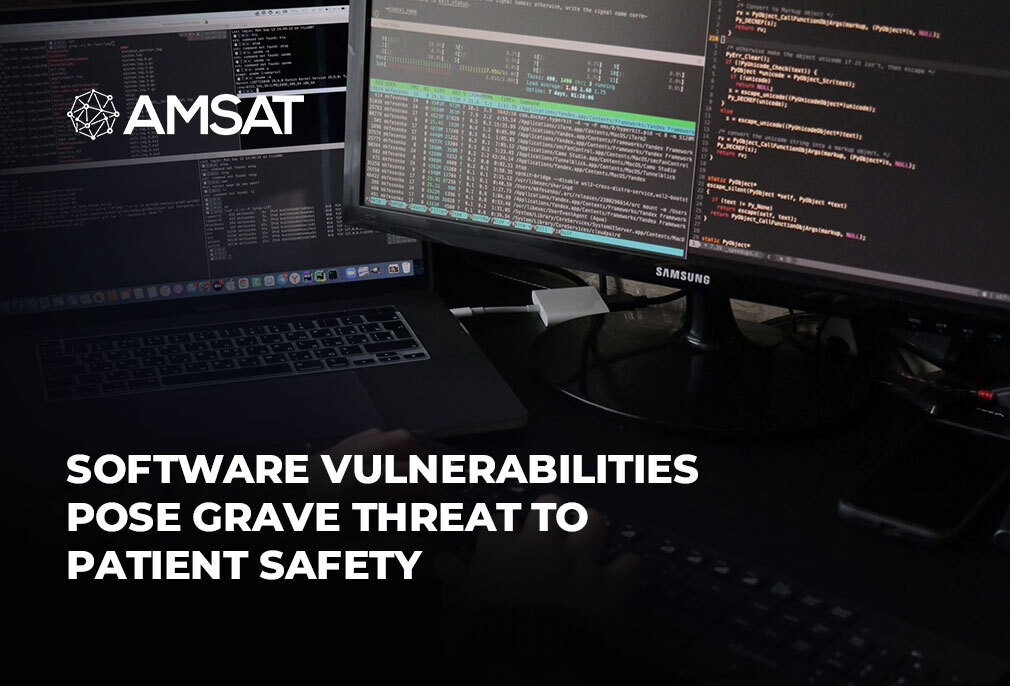 Software Vulnerabilities Pose Grave Threat to Patient Safety
One of the biggest threats to the integrity of the global healthcare industry is the lack of healthcare cybersecurity. This is demonstrated by the fact that successful cyberattacks on the American healthcare system in 2020 had an impact on more than 18 million patient records.
As financial resources and intellectual property are greatly threatened, health professionals shouldn't take this matter lightly. Additionally, IT workers need to deal with Electronic Health Records (EHR) security challenges and commit to assisting patients in recovering from healthcare security breaches. More than 40 million individual records were compromised in 2021 alone, and these figures are rising.
Healthcare environments require industrial control systems (ICS)
High-value sensitive information from patients, physicians, diagnosticians, and other stakeholders is routinely handled by hospitals. This includes highly valuable assets like bank accounts, credit card numbers, bank account information, and personal identity information about patients.
These systems and procedures must always run at their best for our wellbeing. However, a lot may go wrong if bad actors get access to our healthcare ecosystems, from hacked pacemakers and insulin pumps to significant data breaches.
A healthcare institution might suffer severe consequences from any breach in medical device security. However, the hazard frequently originates from within, in the form of potentially dangerous human mistake, unforeseen changes, and outages. Defective software should also be removed at the same time.
Health care providers would be able to take protective actions to lower the danger of exploitation thanks to robust ICS security for medical equipment. Best practices call for limiting these devices' network accessibility, completely isolating control systems when practicable, and employing VPNs for any administrative responsibilities.
Putting patient protection and safety first
The Health Insurance Portability and Accountability Act (HIPAA), which stipulates that any individual's past, present, and future information submitted to a health care provider must be collected, stored, exchanged, and maintained under HIPAA norms, protects Personal Health Information (PHI).
As the U.S. government has warned of new malware assaults on healthcare systems, hospitals need to have strong cybersecurity. By preventing access to crucial medical data, these attacks, which are surging at an alarming rate, pose a serious threat to hospitals and patients. 68 ransomware attacks were launched against healthcare organizations in Q3 of 2021.
Ransomware groups target the healthcare sector more frequently because they think that because of the urgent need for money, they can profit swiftly from their attacks.
More businesses than ever before are willing to pay the ransom since fraudsters also threaten to disclose or sell the data online. The healthcare industry is being continuously educated on ransomware avoidance by federal authorities.
Medical device configuration errors: a serious threat to the ICS
Asset management, or the registration of all medical IoT devices in a healthcare system, is the first step in ensuring the safety of patients who utilize medical devices.
Understanding medical IoT security configurations and any flaws that could jeopardize patient safety is crucial. When misconfigurations go unfixed, they may result in privacy violations, particularly at public database portals. Given that many of these devices are ancient, old, and running out-of-date operating systems, it is even more crucial. Applying security patches or updating device configurations can become exceedingly challenging.
Mobile devices have made it easier to access and share data, but they have also increased the risk of identity theft, ransomware, and other cyberattacks. Many healthcare organizations enable mobile device login to their portals. These portable gadgets lack security features or security requirements. Ransomware, malware, and privacy breach attacks are quite likely to target unprotected devices.
Systems that enable the administration of medical IoT devices should be secured with multi-factor authentication and trustworthy authorization techniques.
It's also vital to remember that medical gadgets are typically used in hospitals around the world with their factory default passwords. This is an open invitation for an attacker to seize control of the system and alter the behavior of the devices, endangering the safety of the patients.
Additionally, a lot of these connected medical equipment are accessible to anyone with the necessary tools via SSH, FTP, and other common management protocols. In fact, they occasionally even have an open connection to the internet with no firewall to restrict access.
Downloading harmful apps and software from unreliable and untrusted sources is frequently a major contributor to privacy breaches on mobile devices. The security of employee data within the medical application or portal may be compromised by these assaults.
Hospital cybersecurity: the price of ignorance
In 2021, more than 600 ransomware assaults on American healthcare organizations would have cost more than $21 billion. According to another survey, a cyberattack on the healthcare industry typically costs $6.45 million. On average, malicious assaults on hospitals cost $4.45 million.
Such breaches and financial losses may be primarily caused by weak and obsolete cybersecurity systems. It is preferable to invest in new, more dependable cybersecurity systems than to suffer significant financial loss from such attacks.
Protect your healthcare facilities and hospitals
Malicious actors and online attackers find hospitals and other medical facilities to be particularly alluring targets. Sensitive information held by these institutions must be safeguarded against potential cyber threats. HIPAA sanctions and legal action against accountable individuals and departments may come from a failure to take the essential precautions and from failing to secure hospital and patient data.
There is no denying the lightning-fast pace at which internet-connected medical devices have been adopted, leaving no time for IT professionals to automate the management or updating of these devices.
Healthcare service providers must prioritize ICS security, make any necessary software fixes, and transition to genuine smart devices. To guarantee that patient privacy and safety objectives are satisfied, they can use these methods to manage and mitigate risk in their current infrastructu
Ready to
Get Started?
Our specialists are ready to tailor our security service solutions to fit the needs of your organization.