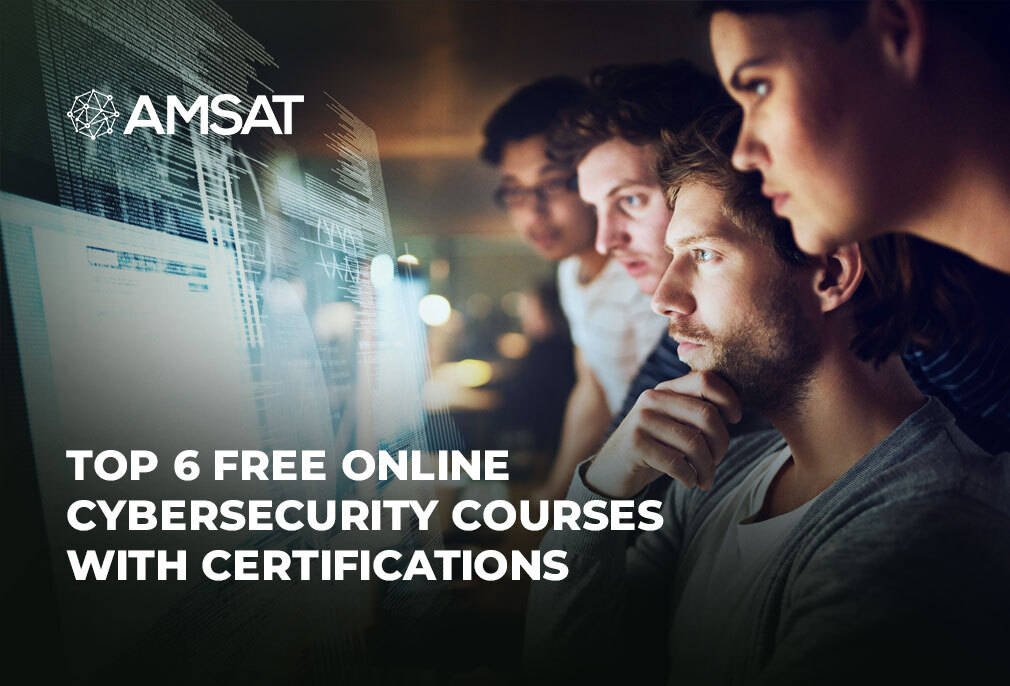 Top 6 Free Online Cybersecurity Courses with Certifications
Upskilling employees is more crucial than ever as organizations get ready for the future of work. The goal of organizations is to replace displaced talent with a highly trained workforce that can propel the company forward during and beyond the post-pandemic recovery period. Competition is fierce for experts with in-demand talents. To stay relevant in a workplace that is becoming increasingly automated, it is imperative to engage in learning new skills. Upskilling or reskilling continuously will provide you a competitive edge in the global employment market, so be future-ready.
The top beginner-level online cybersecurity courses are listed below:
1. Introduction to Information Security
The free CISSP course gives IT professionals all the in-depth knowledge they need in order to pass the CISSP certification exam. The curriculum provides an introduction to information security and is in line with (ISC)2 CBK 2018. Enroll right away to learn how to define IT infrastructure and create and manage a safe work environment.
Before enrolling in this course, you should have prior job experience in fields including security and risk management, asset security, and security engineering.
There is a huge surge in information security positions across industries as a result of the rising demand for information security from all types of businesses. You can apply for jobs like information security analyst, security consultant, security architect, and forensic computer analyst after completing the information security course.
2. Introduction to Cybersecurity
The Free Cyber Security Basics Course is designed for beginners and provides them with a fundamental grasp of the existing cybersecurity landscape as well as introducing them to practical tools for assessing and managing security measures in information processing systems. You can perform business impact analysis and catastrophe recovery testing after enrolling in this program.
You will have a variety of work alternatives in the cybersecurity industry after completing the free online courses on ethical hacking. The occupations that are in demand include information security specialist, ethical hacker, cybersecurity specialist, and cybersecurity analyst.
3. Introduction to Cloud Security
The free Introduction to Cloud Security course will teach you the basics of cloud security. The program provides an overview of the risks to information security and elaborates on the best practices required to guarantee data protection. To recognize and address any threats to the cloud storage system, gain a thorough understanding of the principles of cloud security. Anyone interested in pursuing a career as a cloud security specialist may find the cloud security course to be the perfect starting point. Cloud architects, administrators, and analysts may all be high-paying employment for professionals with a history in cloud security.
 4. Beginner's Guide to Ethical Hacking
You may gain a thorough understanding of the core ideas behind ethical hacking. The ethical hacking beginner's course has been carefully created to give students the knowledge and capabilities to defeat opponents from both a theoretical and tactical perspective. Learn about numerous ethical hacking techniques and tools in this program.
This free online cybersecurity course can jumpstart your career as a trusted cybersecurity professional. Ethical hacking professionals can choose high-paying career paths like Information security analyst, Certified Ethical Hacker (CEH), Security consultant (Computing / Networking / Information Technology), Information security manager, Penetration tester, etc.
5. Introduction to Cybercrime
This basic buy important course is developed by specialists in the field to offer in-depth insights into the different cyberattacks that are now occurring in businesses across all industries. You'll have a thorough awareness of the various cyber security dangers that exist as well as strategies for preventing cyberattacks by the time you've finished the course.
Job security is a result of having a respected cybersecurity certification. With job openings in virtually every business, the field of cybersecurity offers a wide range of opportunities. Cybersecurity analyst, ethical hacker, cybersecurity specialist, cybersecurity developer, and information security specialist are popular career paths in the field.
6. An Overview of CISSP Security Assessment & Testing and Security Operations
An introductory course that helps in the development of strong expertise in security assessment, testing, and operations is the free CISSP Security Assessment, Testing, and Operations for beginners. You will have comprehensive knowledge of the key elements, procedures, and tools required for CISSP domains 6 and 7. Vulnerability assessment, penetration testing, log management and transactions, investigations, incident management, and other skills will be taught to you.
The positions of information security analyst, security consultant, security architect, and forensic computer analyst are among the many that are in demand in the fields of security assessment & testing and security operations.
You may want to think about enrolling in our Cybersecurity Expert Master's Program or Postgraduate Program in Cybersecurity after you have finished the course and achieved certification.
Conclusion
Meeting the changing needs of companies can be achieved by investing in new talents. Whether you're a recent graduate, an early-career professional, or a seasoned professional, you'll need to develop and maintain a set of abilities that are relevant today and will continue to be so in the future. Be willing to adjust, grow, and advance evolution, and maintain an edge over your peers and advance your career.
Ready to
Get Started?
Our specialists are ready to tailor our security service solutions to fit the needs of your organization.